Blood Stem Cell Donor Registry
Blood Stem Cell Donation Overview
A blood stem cell transplant is often the best or only treatment for many blood cancers and other life-threatening diseases.  The matching process for a blood stem cell transplant involves tissue typing to find a donor with a compatible genetic makeup of their immune system.  This compatibility is critical to whether the transplant is accepted or rejected by the body.
A genetically matched donor, such as a sibling, can often be an ideal candidate, but not always. Genetically related donors typically are sought first.  However, only 30% of those seeking a transplant are matched with someone from their own family.  Related donors are not always the best match, available, or may be unable to donate.   In those instances, the only chance for a person in need of a blood stem cell transplant is an allogeneic transplant (a transplant from a matched, unrelated donor) through national donor marrow registries.  Roughly 70% of people needing a blood stem cell transplant end up relying on these registries.
Our Collaboration with Be The Match®
EMS Gives Life is proud to collaborate with Be The Match® to promote blood stem cell donor registration.  The Be The Match Registry® is operated by the National Marrow Donor Program, a nonprofit organization founded in 1986.  It is committed to maintaining the world's largest blood stem cell registry and to matching patients with compatible blood stem cell donors.  Be The Match® has facilitated more than 100,000 blood stem cell transplants and they are recognized leaders in unrelated donor marrow transplants.
The Critical Need for a Diverse Donor Pool
All potential donors in the registry are considered when searching for a match for a blood stem cell transplant.  However, the best donor is often someone who shares the same ethnic background as the recipient since genetic type is inherited.  Genetic type is critical for making a match.  Currently the odds of finding a match based on ethnic background is far less likely for some than others, as shown below.  Therefore, the goal of increasing the size of the registry includes an emphasis on improving racial and ethnic diversity. This will help all patients to find the match they need.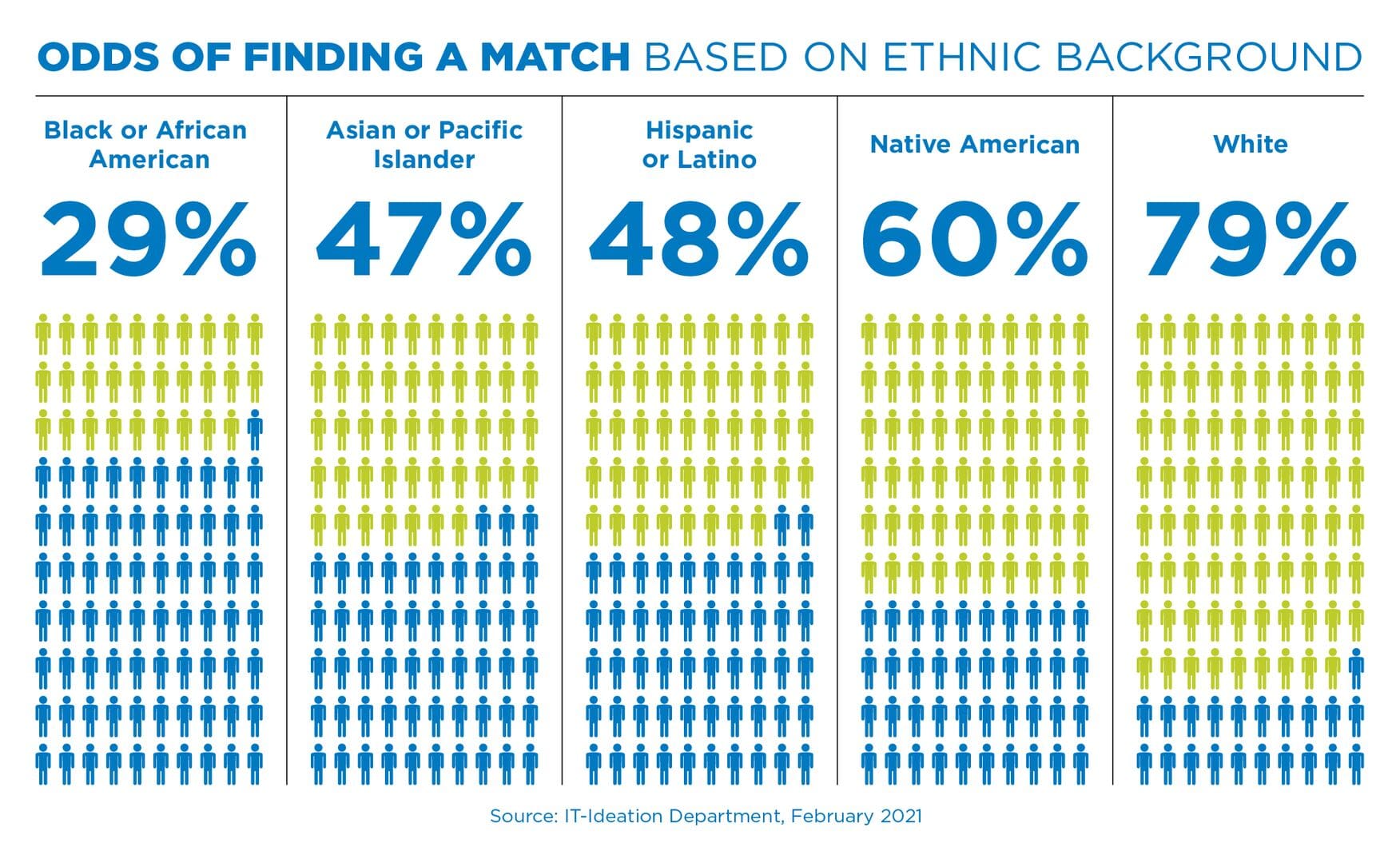 The logic is simple:  the more people who are registered on the national marrow donor registry, the greater the likelihood that someone will be able to find a match at a time of critical need.  If no match is found on the registry, it doesn't mean a match isn't out there somewhere.  But it does mean that a donor needs to be found.  Registered donors may not be called right away, or ever, but the important thing is that they are easily accessible when needed most.  
Are you between the ages of 18 and 40 and a resident of the U.S. or Puerto Rico?
Sign up today and you'll receive a kit in the mail.  You can swab at home, return the kit by mail, and complete registration online.  It's easy!
Are you willing to host a registry drive at your workplace or upcoming event?
Contact us and we can work with you and your local Be The Match® representative to organize a donor registration drive.
Are you on Facebook, Twitter, Instagram, Pinterest, or other social media?
There is no denying the power and reach of social media. Help spread the word with these images, skins, and badges from Be The Match.®