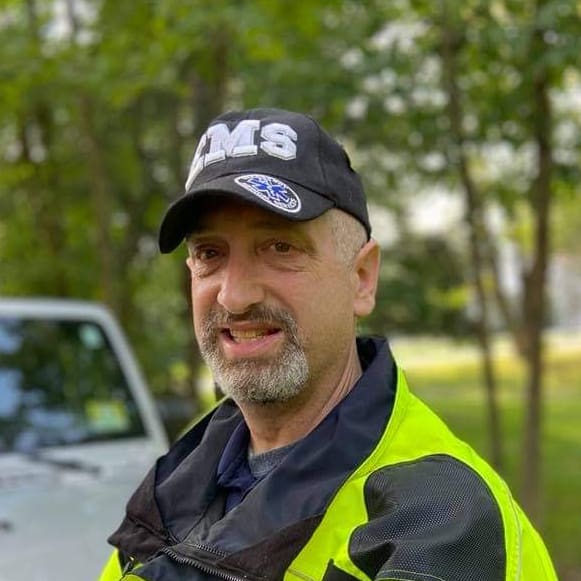 Help Find
Reid Cappel a Kidney
My name is Reid Cappel and I am asking for your help finding a living kidney donor so I can live.
Here's a little background about me. I live in Harding Township, New Jersey with my wonderful family and my 3 rescue dogs and cat. I have been volunteering with the New Vernon Fire Department First Aid Squad for more than 11 years. I began with ride-alongs and soon pursued my Emergency Medical Technician (EMT) certification, eventually working my way up to a 2nd Lieutenant. I became so passionate about Emergency Medical Services (EMS) that I made it my career in 2012. I am currently an EMT with Atlantic Health System, while still serving as volunteer Crew Chief with the First Aid Squad.
My Interests and Passions
Helping others as a First Responder has been my passion for years. It has come to define how I see myself — someone who helps others when they most need it. It can be as simple as holding an elderly patient's hand on the way to the hospital or as critical as providing life-saving CPR to someone in cardiac arrest. Both are important and rewarding to me in different ways. I like knowing I was there when someone needed me. I have interests outside of EMS, most notably as an avid fan of ice hockey and the New Jersey Devils. I am blessed with a full life of family, good friends and neighbors, and a community of supporters.
"Please consider saving Reid's life! I can promise you that you will be saving a good person. Reid will give back and be a lifeline for others suffering from kidney failure."

– Darlene Cappel, wife
My Medical History with Kidney Disease
I learned at age 21 that I was born with only one kidney which is not uncommon. One healthy kidney can do the job of two. Unfortunately, my only kidney began to fail. I have been very fortunate to be as healthy as I have been which has allowed me to continue to push through and work in EMS. I have been on the kidney transplant waiting list since 2018. I am now at the point of needing a kidney transplant to live. My family members are very supportive, but unfortunately, none are medically eligible to be my donor.
Helping others is what I do and who I am. It is the thing that is most important to me. At the beginning of the COVID-19 pandemic, I was advised to leave EMS due to my health risks. I watched my overworked, committed co-workers continue to provide life-saving care without concern for their own risk. I couldn't leave them. I shifted to logistical support, managing the personal protective equipment and gear needed to keep my fellow EMTs and Paramedics safe. I miss being on the road and providing direct patient care, but I am proud to go to work each day to do my part — and have been lucky to be medically able to continue. I fear this may not be for much longer if my kidney function further declines.
My Future after Kidney Transplant
Obviously, a kidney transplant from a living donor will save my life. I can't even begin to comprehend how one thanks another human being for that gift. I am so appreciative of the support I have been given from friends and strangers alike. This journey through kidney failure has had more of an impact on my life than just failing health. I have met such amazing people who have stepped up to help me find a kidney donor. These people have inspired me to give back. I hope to be an advocate for other kidney transplant patients in the future. I am not giving up my work as an EMT, but just adding efforts to help others like me. The level of gratitude I experience every day is hard to communicate. I know the amazing way it feels to have all this support and I want others to know that someone will always be there for them.
Good news…
If you're healthy enough to donate a kidney, you can be a donor on Reid's behalf!
You don't need to be a match.
You can do testing, evaluation, and surgery at a hospital close to home and on your schedule.
You will get cost reimbursement for lost wages, travel, and lodging.
You will be prioritized for a kidney donation in the unlikely event that you need a kidney transplant in the future.
You can receive mentoring from a living kidney donor.
The National Kidney Registry's Donor Shield and the National Kidney Donation Organization provide resources and supports to living kidney donors. And EMS Gives Life will be with you, every step of the way!
Would you consider being Reid's kidney donor?
Sign Up to be a Kidney Donor for Reid
Take the first step to start the screening process.  There is no commitment to exploring the idea of being a kidney donor.
Click here to learn more about living kidney donation, donor resources, and best practice approaches to donating your kidney to a specific recipient.